WordPress Website Maintenance Checklist: The world of website maintenance is vast, and if you're managing your own site, there's a lot to keep up with. But the good news is that it doesn't have to be overwhelming. This list will help you tackle some of the most common tasks involved in keeping your WordPress website running smoothly.
What is Website Maintenance?
Website maintenance is the process of keeping your website running smoothly, efficiently and safely. It involves checking for errors, broken links, and security issues on a regular basis. This is important to ensure that your website is running smoothly and safely.
As a website owner, you need to ensure that the site is regularly checked for any issues so they can be addressed before they get out of hand. The importance of this task cannot be understated as it will help to protect your brand identity as well as increase user experience by allowing easy access to all content without interruptions or hindrances from broken pages or links that lead nowhere. That is why it is necessary to maintain a website maintenance checklist.
Why is Website Maintenance Checklist Important?
A website maintenance checklist is important because it helps you to ensure that your website is running smoothly and is secure. It also helps you to ensure that your website is up to date with the latest technology and trends. You should check for broken links, and 404 errors, review the search console, update WordPress software and run a security check as well as a website speed test.
What are the Tasks Involved in Website Maintenance?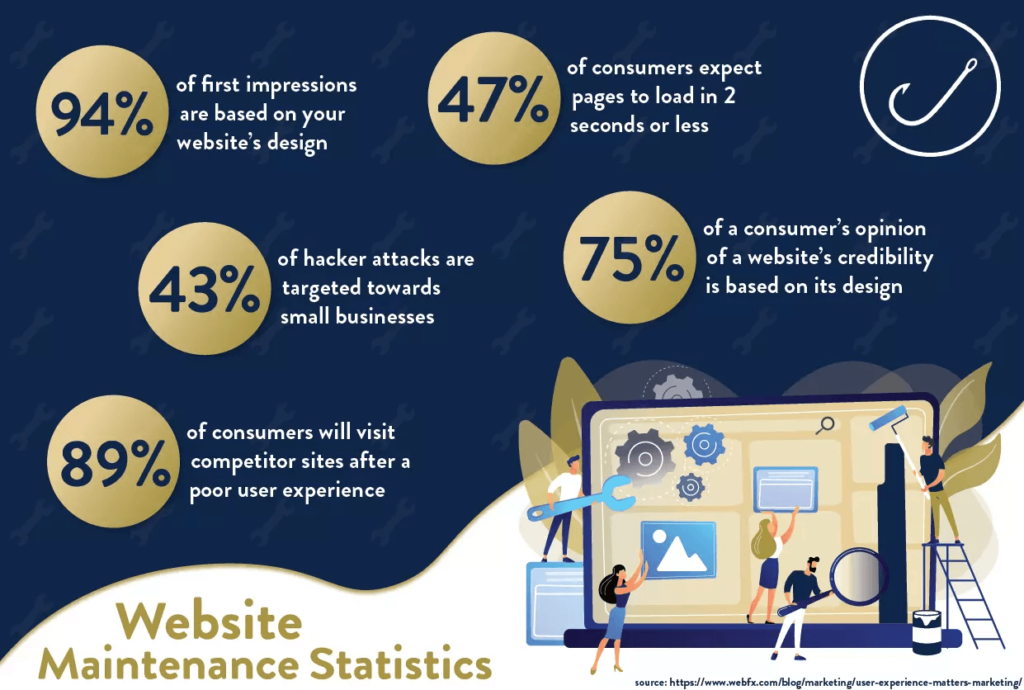 A website maintenance checklist is an important part of keeping your website up to date and in good working order.
Here are some of the tasks you should do on a regular basis:
Check for broken links on your site (404 errors).
Check the search console for any issues with crawling or indexing.
Update WordPress core software, plugins, themes, and translations as needed.
Run a security check using Sucuri SiteCheck or Wordfence Audits. This will identify any vulnerabilities that may be present in your site's code and could lead to hacking attempts from outside sources like bots trying to steal data from visitors' computers through malware injected into their browsers via infected sites/blogs/pages hosted on servers owned by someone else close by who has already been compromised (i.e., not just yours). It also checks whether or not there have been changes made within the past 24 hours since the last time it was run so if there were some kind of breach detected since then; this would allow us enough time to react accordingly before anything happens again tomorrow morning when we arrive back at work."
Main points of the website maintenance checklist.
Check for 404 errors and if there are any, fix them.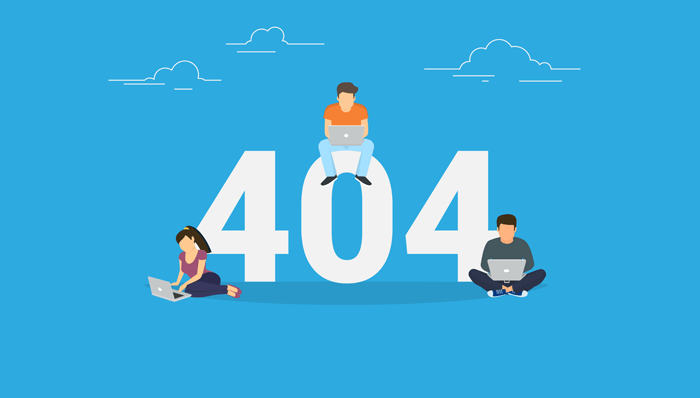 Make sure you're not getting 404 errors.
It is a bad user experience to have your website throw up a 404 error when someone clicks on a link. Getting rid of a 404 is important for a website maintenance checklist. This can be avoided by setting up a 301 redirect in your .htaccess file.
The 301 redirect tells the browser that you have permanently moved the page or resource, and it will automatically update its internal links to point to this new location for visitors who are already coming from another page within your site or outside of it (such as coming from Google). You can set up 301 redirects for pages on your WordPress site by going into Settings > Permalinks, clicking "Save Changes" at the bottom of the page then clicking "Default Redirect" under Custom Structure:
This check plays a very important role in the website maintenance checklist.
Check for broken links.

Check links by clicking them. Go through the site and click on all of the links to see if they work.
Use the "Find Broken Links" feature in your browser. If you use Chrome, this feature is called "Lighthouse" and can be accessed by clicking on the Chrome menu icon (three horizontal bars) in the upper right corner of your browser, then selecting "Audits" > "Find Broken Links." Clicking on this option will bring up a list of any broken links that were found on the site so that you know where to start working with it.
Use a link checker plugin (e.g., [brokenlinkchecker]). By using one of these plugins, you can let it search for errors automatically by having WordPress scan all incoming links for 404 pages or other errors as they happen—and then fix them accordingly as well!
This check plays a very important role in the website maintenance checklist.
Review Search Console
Google Search Console is a suite of tools that allows you to view the results of your site's performance in Google. In this section, we'll go over how to use it and what you should be looking for when you're checking your reports. This check plays a very important role in the website maintenance checklist.
Update Your WordPress
It is important to keep your WordPress software updated regularly. WordPress has a regular update cycle, and if you want your site to be secure, then you should install these updates as soon as they become available. The good news is that WordPress updates are easy and safe to install. You can update manually or automatically with the help of a plugin like WP Updates Notifier (which will send you notifications when there are new updates).
This check plays a very important role in the website maintenance checklist.
Run a Security Check
Run a Security Check
Your website is the heart of your brand. It's where you can share content, generate leads, and build relationships with customers. That's why it's so important to make sure that your site is secure and protected from hackers, malware, and spam attacks. The last thing you want is malicious actors accessing your server or stealing sensitive data. To make sure this doesn't happen:
Run a security audit on your WordPress site with Sucuri SiteCheck or Wordfence (your hosting provider may offer one). This will show if there are any vulnerabilities in place that could be exploited by hackers. You can then take steps to fix them so this doesn't happen again in the future.
This check plays a very important role in the website maintenance checklist.
Run a Website Speed Test
Run a Website Speed Test
Website speed is an important factor in search engine optimization (SEO), and it's critical to the user experience of your website. A fast-loading site will make visitors happier, more likely to return and share the site with others, and can even boost conversion rates for certain types of businesses.
First things first: if you aren't already running a website speed test, start today! To get started with testing, we recommend Google PageSpeed Insights as one of the most popular options available. It provides both an overall score for your website as well as specific recommendations on how you can improve its speed. You'll also receive some useful insights into what could be slowing down your pages—whether that's images, scripts or other problems related to performance—and tips for fixing them.
This check plays a very important role in the website maintenance checklist.
Check Analytics Data
Analytics data is an excellent tool for determining how your website is performing and can be used to identify problems with your site.
Analytics data can also help you identify problems with marketing campaigns, as well as the traffic coming to your site.
This check plays a very important role in the website maintenance checklist.
Test Forms & Directories
Test forms & directories
Form functionality: If you have a form on your site, make sure it works properly. You should be able to submit a post or contact form without errors and receive confirmation that the submission was made.
Form styling: Make sure the styling is consistent with other elements on your site. If possible, test the form with different browsers (and versions of those browsers) to ensure there are no bugs specific to one browser type. Also, check for any CSS issues that could affect how a user sees your forms (like adding padding or margins).
Form usability: Make sure users know what they need to do if they want to fill out any forms on your website—and what will happen if they do fill them out improperly. For example, let's say we have an email newsletter signup form; our goal would be that users see exactly where they need to enter their email address (and nothing else) in order not to misspell it accidentally or put in incorrect information unintentionally by mistake because of poor visual design choices made by developers who chose not consider UX best practices when building this particular feature of our website! This check plays a very important role in the website maintenance checklist.
Test Redirects
Redirects are important for SEO, user experience, security, and uptime. Redirects also help with site speed and performance. Therefore, it's crucial that you regularly check all of the redirects on your WordPress site to make sure they work properly.
If you use a plugin like [Yoast](https://wordpress.org/plugins/seo-by-yoast/) or another similar plugin that has a built-in redirect manager, then you shouldn't have any issues here. However if not then I recommend using Google Search Console (formerly known as Webmaster Tools). It will allow you to easily see any errors or warnings related to 404 errors in search results from Google and Bing (should be checked separately).
This check plays a very important role in the website maintenance checklist.
Do a Visual Inspection
To start, you'll want to do a visual inspection of your website. This step is important because it's one of the easiest ways for you to spot problems and issues with your site that may not be visible in the code or when using Google Analytics.
Check for broken links: A broken link occurs when someone tries to click on a link that no longer exists, causing them to get an error message and leave your site. To check for them, go through each page of your site and use the browser's "view source" feature (usually CTRL+U or CMD + [command] + U on Mac) to see if there are any URLs highlighted in red—if so, they're broken!
Check for broken images: When an image doesn't load properly because something went wrong during upload or editing, it becomes useless. To check whether this has happened with any of yours, open up the media library screen (in WordPress, go to Media > Library) then click on one of the images listed under 'All Files.' If a file isn't working correctly here either but it looks fine when viewed directly from its URL online via FTP access then you've got yourself another issue! This check plays a very important role in the website maintenance checklist.
Keep your website running smoothly by checking off these items.
Check for 404 errors.
Search your site for broken links.
Review search console results in Google and Bing.
Update WordPress software, plugins, and themes.
Run a security check on your website with Sucuri or WPScan to identify any possible vulnerabilities (e.g., SQL injections or cross-site scripting).
This check plays a very important role in the website maintenance checklist.
Test your website on the most popular browsers and devices
To ensure your website is working properly, it's important that you test it on the most popular browsers and devices.
Test your website on Windows, Mac, Linux, and Chrome OS.
Check your site in Safari, Firefox, Internet Explorer 11+, Edge, and Chrome.
Test for mobile-friendly images by zooming out to a smartphone viewport width at 50% zoom level or smaller in desktop browsers.
If you are looking for the best SEO tips it's necessary to create your website maintenance checklist.
If you are looking to learn how to create a website using WordPress keeping a website maintenance checklist is a must.
Why Should You Pay for Website Maintenance?
Your website is your online business—and it's not the only thing you need to focus on. You have a lot going on and keeping your WordPress site running smoothly isn't always at the top of your list.
We understand that you don't have time to worry about every little thing that might go wrong with your site, especially when there are so many other tasks demanding your attention. And we also understand that sometimes things can happen unexpectedly and quickly, which means even if you do find time to handle these issues yourself, you might not have enough time or resources available right away. That's why we offer our services:
To monitor the health of all aspects of your site (both technical and non-technical) so that they're up-to-date, secure, and performing well
To fix any issues as soon as they appear without having to wait until they become too serious
Conclusion
We hope this has given you a good idea of what is involved in the website maintenance checklist. If there are any other things that you do regularly, please let us know in the comments below!
There are some tools that will give you a website maintenance checklist.